"Science fiction is simply a way to practice the future together. I suspect that is what many of you are up to, practicing futures together, practicing justice together, living into new stories. It is our right and responsibility to create a new world."
– Adrienne Maree Brown, Emergent Strategy: Shaping Change, Changing Worlds
Recently I had the opportunity to participate and support MoCon a conference held here in Indianapolis and organized by my friend Maurice Broaddus, Black speculative fiction author and Kheprw Institute Afrofuturist.
One of the key ideas I left with was the importance of emergence in community empowerment.
What is emergence? Why is it important?
"'Emergence' describes the ability of individual components of a large system to work together to give rise to dramatic and diverse behaviour." – Emergence: the remarkable simplicity of complexity
Some of the most important relationships in our lives emerge from other relationships and events. In order to intentionally create the future we desire we have to increase our awareness of emergent opportunities as a way of living and being.
Often emergence is dismissed as coincidence, but it's these coincidences that offer us opportunity to create the futures we desire. The cultural context we live in has dulled our awareness of emergence as a way of living and being.
Afrofuturism
One panel at the conference focused on Afrofuturism's role in community development featured the following creatives from around the country:
This discussion focused heavily on the past and present state of Afrofuturism, the challenges of black creative producers working in predominantly white space and how each of them have attempted to navigate the space individually and collectively.
Diop, my son, asked the panel, "Are there any pieces or projects that you are working on that you are trying to influence or manifest a specific way of being tied to your desired future state?"
I found myself reflecting on how this moment came into being.
I came to be aware of Afrofuturism as a genre through reading the work of Octavia Butler, her book Wild Seed, and having listened to Sun Ra and Parliament/Funkadelic forever.
I first learned of the term Afrofuturism 3-4 years ago when I attended a We Are City conference and there was a panel discussion focused on Sun Ra and Afrofuturism.
A few years later Stacia Murphy, a KI Equity Fellow, asked why Kheprw was not more heavily involved with supporting Black art. A few months later by pure "accident" or synchronicity or emergence, I attended a meeting at our space and Maurice Broaddus was there. I learned that he was a local Black speculative fiction writer and asked him to hold some conversations at our space around the topic of Black speculative fiction.
One day while having coffee at Quills, I ran into Michael Kaufmann, who was involved in the We Are City Sun Ra presentation. I invited him to a lunch meeting with Maurice. At that lunch our ongoing monthly Afrofuture Fridays Series and the beginning of an Afrofuturism collection/library was born.
By being aware and embracing emerging opportunities in the moment we create our desired future state.
At MoCon Diop raised the question about Afrofuturism and its role in creating a desired future state. One of the challenges of creating the desired future state is being able to step out of the present and the challenges of being black in a culture dominated by eurocentric worldviews.
Creating the desired future state starts with being aware of the moment and capturing it through your own agency. We've taken this moment raised up by our supporters and utilized our community (Stacia, Kaufmann, Maurice, myself and others) to lift up the voices of Afrofuturist creatives in our community.
This project is a testimony of what individuals and communities can do when they come together. Thanks to these artists who came to Indianapolis to share with our community.
About the Author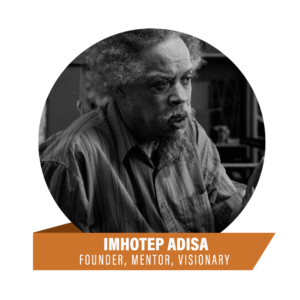 Imhotep Adisa is the Executive Director and Co-Founder of the Kheprw Institute, a non-profit organization focused on youth development in Indianapolis, IN. Over the course of 14 years, Imhotep has guided the Kheprw Institute (KI) as it has blossomed from a small mentorship program serving 5 African American high school males to a mid-size intergenerational multi-racial organization addressing and creating future-oriented solutions for myriads of community challenges: education, environment, economy and empowerment. LEARN MORE