---
Homes for All Indy through the Kheprw Institute is a member organization of the Homes For All national campaign. Launched by Right to the City Alliance, Homes For All aims to protect, defend, and expand housing that is truly affordable and dignified for low-income and very low-income communities by engaging those most directly impacted by this crisis through local and national organizing, winning strong local policies that protect renters and homeowners, supporting efforts at building models for truly affordable community-controlled housing and shifting the national debate on housing.
LEARN MORE
---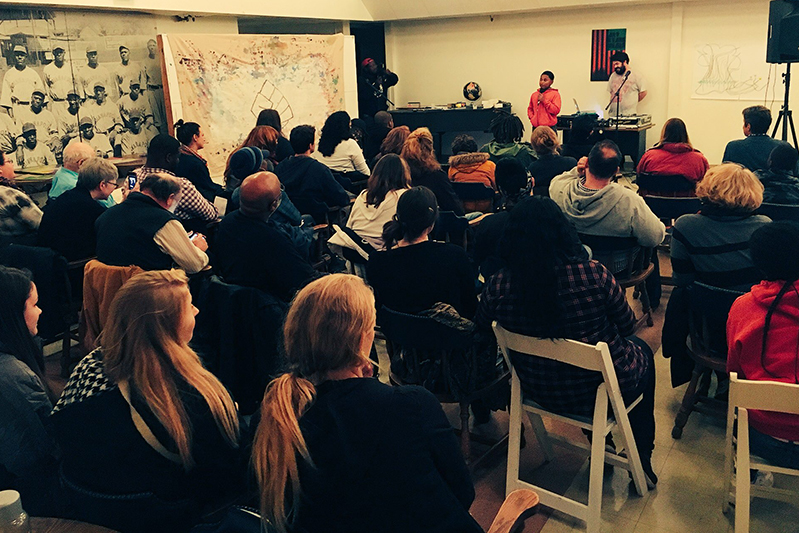 ---
---
Home For All Indy
TENANT RESOURCES
A comprehensive list of resources for housing and rental support across Marion County.
BROWSE RESOURCES
---
HOMES FOR ALL INDY
RESOURCES
---
CREATING PERMANENTLY AFFORDABLE HOUSING

What is a Community Land Trust?
COMMUNITY ORGANIZING

How advocates are fighting tax laws that hinder cooperative housing
In San Francisco's Chinatown, community activists jumped in when a 21-unit building housing low-income tenants was threatened with demolition. But even after they pulled together financing to buy the building and convert it to a housing cooperative, they faced a major bureaucratic hurdle: persuading city leaders to tax it differently than commercial rental property.
READ MORE
---
SHAREABLE

How Five older women are creating AI International community
---
READ MORE
---
COMMUNITY-CONTROLLED NEIGHBORHOOD DEVELOPMENT

Dudley Street Neighborhood Initiative: How a once-Fractured Community became whole
HOW DO YOU START A COMMUNITY LAND TRUST?

Homes for All Community Land Trust Toolkit & Decision Guide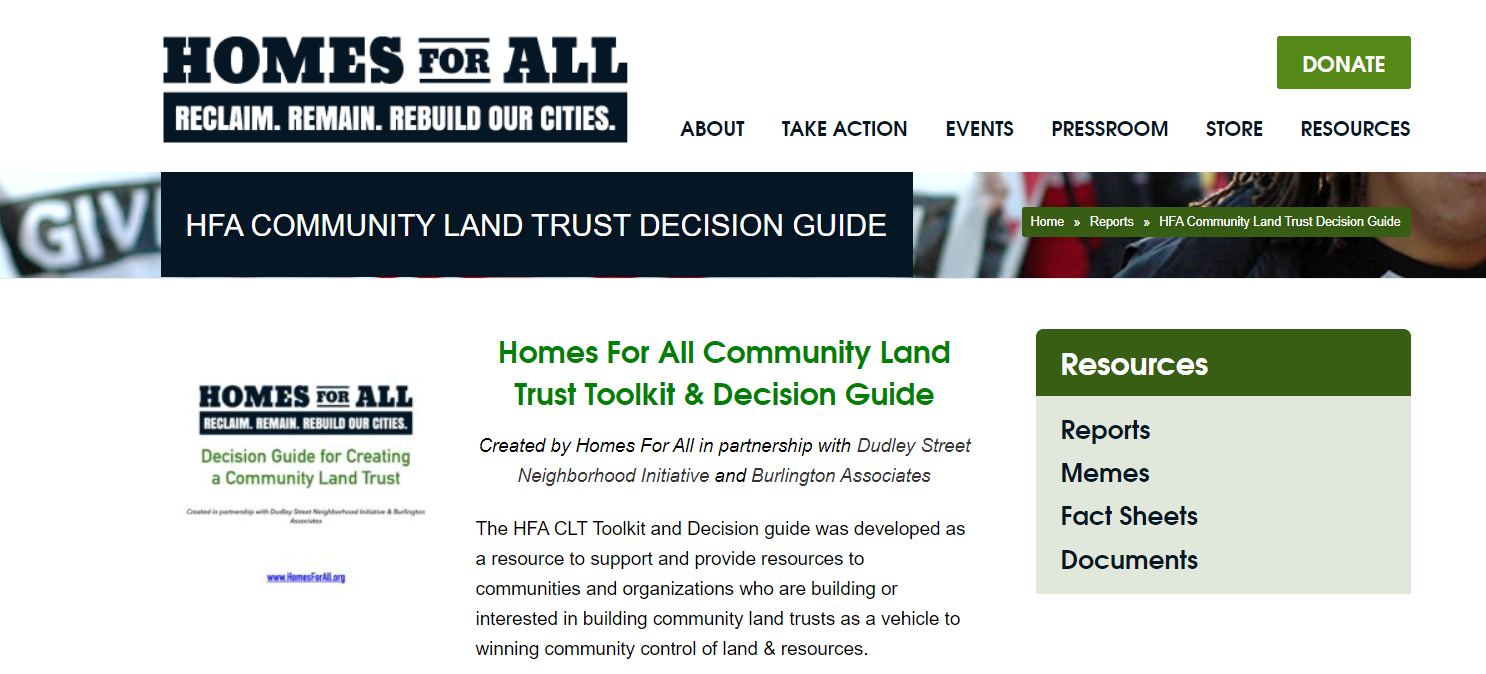 ---
This guide was created by Homes For All in partnership with Dudley Street Neighborhood Initiative and Burlington Associates. The HFA CLT Toolkit and Decision guide was developed as a resource to support and provide resources to communities and organizations who are building or interested in building community land trusts as a vehicle to winning community control of land & resources.
LEARN MORE
---
---
The Community Land Trust Technical Manual produced by Grounded Solutions Network provides a comprehensive, practical guide for the startup and ongoing operation of community land trusts. For information on how to set-up a CLT as an independent not-for-profit corporation see Chapter 3: Incorporation and Basic Structural Considerations.
LEARN MORE
HOMES FOR ALL INDY
GET CONNECTED
---
If you would like to help us build a grassroots effort that supports affordable, dignified permanent housing options for low-income and extremely low-income individuals and families join one of our work committees:
Contact the committee lead to learn more about how you can get involved!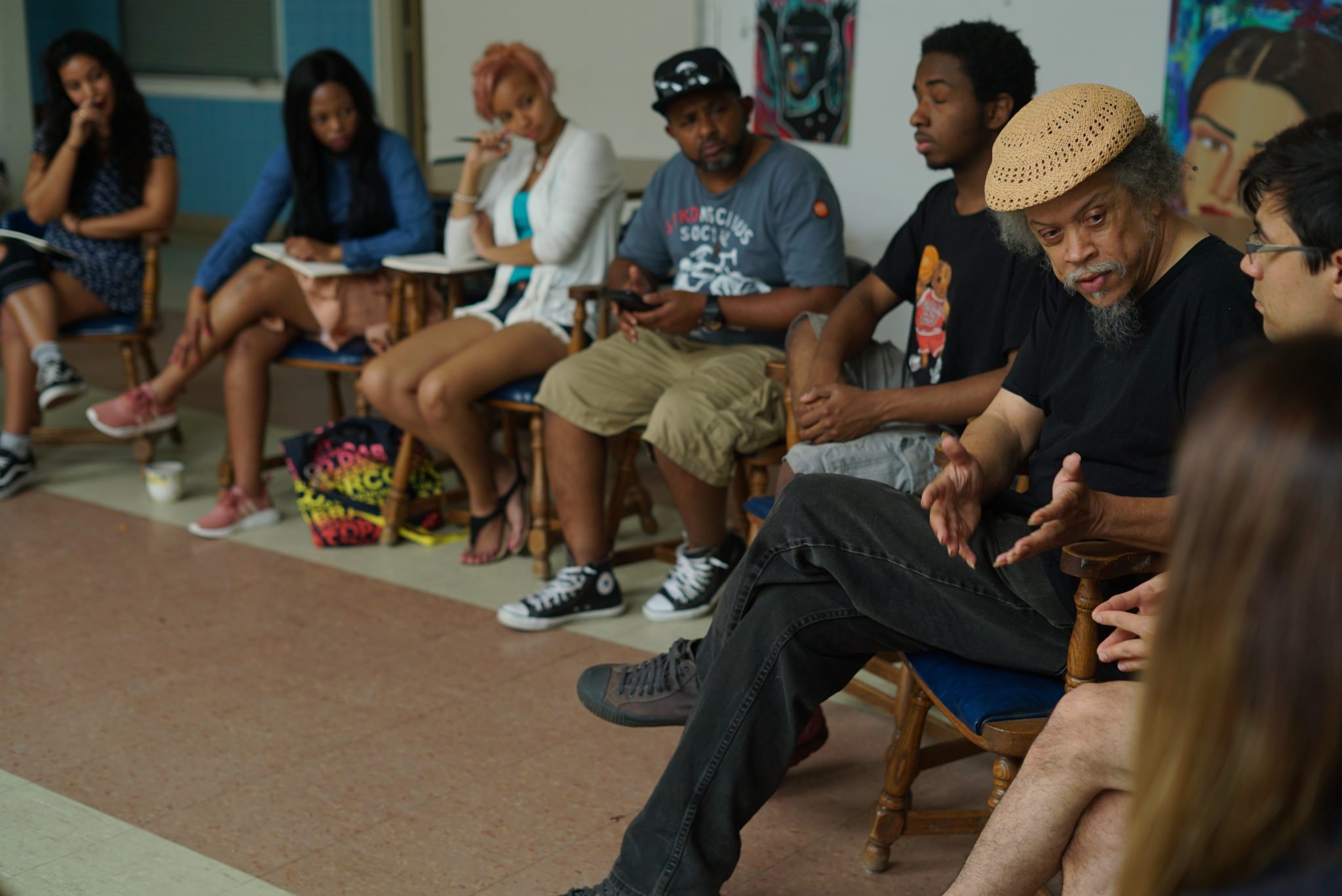 JOIN THE MOVEMENT
MAKE AN IMPACT
---
---
Kheprw Institute (KI) is a community organization that works to create a more just, equitable, human-centered world by nurturing youth and young adults to be leaders, critical thinkers and doers who see the people in any community as the most valuable assets and are committed to working with marginalized communities to bring about change that leads to empowered self-sustainable communities.
---
Criminal "Justice" Reform