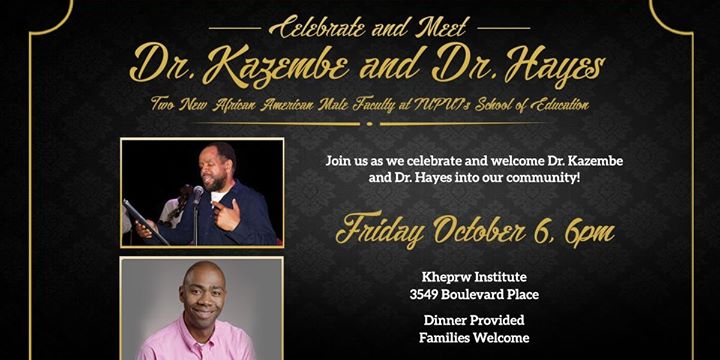 Welcome Reception for Dr. Kazembe & Dr. Hayes
Join us as we celebrate and welcome Dr. Kazembe and Dr. Hayes into our community!
Dinner Provided
Families Welcome
Dr. Hayes teaches elementary foundations of education and qualitative research methods. Dr. Hayes's research interest includes the use of Critical Race Theory in Education, Historical and Contemporary Issues in Black Education to include the school to prison pipeline, Teaching and Learning in the Latino Community, Whiteness and the Intersections of Sexuality and Race.
Dr. Kazembe is a proud papa, poet, and professor who was delivered and developed in the Englewood community on Chicago's south side. A committed Educator, Culture Worker, and Teaching Artist, his work involves developing and facilitating learning enrichment opportunities that intersect literacy, creative arts, critical media literacy, and cultural studies.