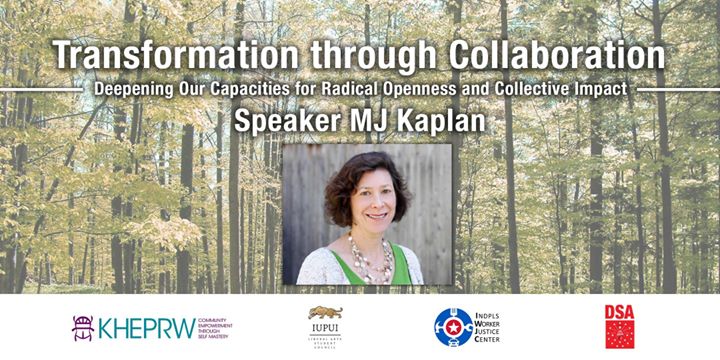 Transformation through Collaboration – Radical Openness & Impact
We've seen movements change culture. Each of us, in isolation, may not be able to move towards a tipping point. However, through collaboration tremendously more is possible. The old ways of working together, competition… individualism… won't suffice to build the future of mutual care and beloved community that we know is possible.
This workshop will be facilitated by MJ Kaplan, a worker-owner and board member of the Loomio co-operative—innovating and supporting deeper, more inclusive, and accessible ways of organizing around the world from Podemos to the Youth UN to the Sunflower Revolution—will guide us through a practical workshop to enhance how we sharpen our personal mastery in order to be open and effective to collaborate on the community issues we care about so deeply.
We'll develop our personal and collaborative capacities, and explore tools and tips for generative practices in your organization.
This workshop is (in part) a continuation of the "Organizing in the Post-Obama Era" sessions we ran with MJ's co-workers from NZ.
:: ABOUT MJ ::
MJ has been working to strengthen communities since her years growing up in Cleveland when the Cuyahoga River was burning and race rebellion filled the streets. She trained as a community organizer and honed those skills to move into organization transformation work. She has worked with an extraordinary variety of groups and issues through the years including a 20-year affiliation with the Insitute for Conservation Leadership, schools/education (her graduate work was in education) and thriving urban development (she contributes to regeneration work in Providence where she and her partner have raised 3 kids).
MJ did a mid-career pivot after mentoring student social entrepreneurs at Brown University and being inspired by their intelligence, creativity and tenacity. She lived in New Zealand in 2013 to research social enterprise and joined one of the projects – Loomio, MJ has been a Loomio worker-owner for 4 years and recently joined the Board. She is an Associate with the Centre for Social Impact in New Zealand and is on the boards of Commerce RI and Social Enterprise Greenhouse. Through an affiliate with Berkman Klein Center for Internet & Society at Harvard University she is exploring how inclusive groups can make better decisions that leverage ethical technology and deeply human capacities. MJ spends as much time as possible climbing mountains surrounded by the glory of nature and people she loves.
*****
This workshop was made possible by the generous support of Central Indiana DSA, the Indianapolis Worker Justice Center and IU School of Liberal Arts Student Council at IUPUI