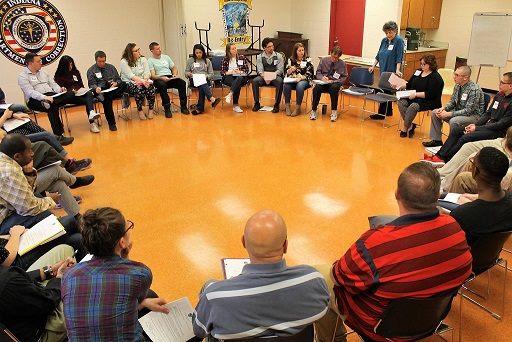 Re-entry: Working for Equity
Meet the Panel
Rev. Eugene Potter
Rev. Potter founded New Life Development Ministries which works to restore the lives of men with criminal histories. He has worked with re-entry for 25 years and trains and employs men who have returned to their communities after incarceration so that they can earn meaningful wages to support themselves and their families. He provides mentorship with faith-based principles along with training in construction trade skills, home maintenance and auto mechanics. New Life uses abandoned houses for on-site training, then they become transitional, or rental properties.
Brooke Daunhauer
In her new role as director of re-entry, Daunhauer is working to improve connectivity for those re-entering the community with existing service providers, promote public-private partnerships to fill gaps in services, and uplift the work already being done by partners to foster successful reintegration within the community. Before joining the Office of Health and Public Safety, Daunhauer worked with the Marion County Public Defender Agency, as a family support specialist supervisor with Wishard Healthy Families and as a healthy families group facilitator at the Marion County Public Health Department.
Cecelia Whitfield
Upon dealing with the pain and hurt while learning that their son was facing 40 years of prison, Cecelia Whitfield founded Use What You've Got Prison Ministry in 1988. This ministry became a 501(c)(3) public charity in August of 1990. In the past 20 years, Cecelia has traveled countless miles serving this ministry. In order to minister to the children and mothers, she began a toy giveaway in 1993 and a women's retreat for the mothers in 1994. To further serve her calling, Mrs. Whitfield eventually resigned from her full-time job to drive visitors to the prisons and serves as it's president.
Charles "Preach" Neal
Charles "Preach" Neal became Pastor and Reentry Director at Brookside Community Church in early 2017. Previously he served as Director of Peer Development at RecycleForce, a nonprofit social enterprise on Indianapolis' Near Eastside that provides transitional jobs to men and women returning to Marion County after incarceration. In that capacity, Neal played an essential role in the development of the onsite peer mentoring program, meeting weekly with mentors to discuss their work and providing direction to transitional employees as needed. He also led the morning "Circle of Trust".
Michael Johnson
Joining PACE Indy in 2010, Michael has over 10 years' experience in case management and employment support services. Originally as the Transitional Services Coordinator, Michael is now the LEAP Post-Release Coordinator. The mission of PACE is to provide a variety of services to help offenders, ex-offenders, and their families to lead productive and responsible lives in their community.
This discussion will focus on solutions around re-entry in Indianapolis and our country as a whole.
We will discissors:
– Local and national solutions that work toward equity for formerly incarcerated people
– Criminal justice reform in Indianapolis
– How to provide more comprehensive support for re-entry
This is the 6th installment in Equity in Action a community discussion series hosted by Spirit & Place and Kheprw Institute.
Learn more about the full series at http://equity.kheprw.org/