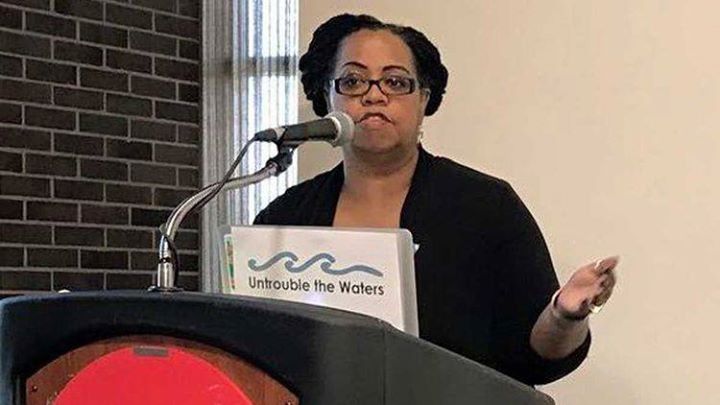 Protect Your Community: Contamination 101
Join us for a panel of speakers who will discuss issues of environmental contamination facing Indianapolis neighborhoods connected to issues around the world. They will focus on major urban environmental problems like lead poisoning, water contamination, etc., discuss how environmental clean-ups work and how communities can help lead efforts to protect themselves and the environment. We will also have a Q&A and open community discussion.
PANELISTS
Elizabeth Gore has lived and worked in the Martindale-Brightwood community for over 40 years in various volunteer capacities. She is the past president of the Martindale –Brightwood Community Development Corporation Board , past vice president of Martindale-Brightwood Weed and Seed, presently she is the president of the Martindale-Brightwood Environmental Justice Collaborative, vice president of the Martindale –Brightwood Healthnet Board, member of the Education Task Force for Community Schools.and Oakhill Neighborhood Association, As past president of the Indianapolis City Council PTA and Arsenal Technical High School PTSA she gained valuable leadership experience.
James (Gien) Wong is a co-founder of Stop Reset Go (SRG), Board member of Open Source Circular Economy Days and Envienta, and co-organizer for the Wellbeing Economies Festivals. SRG is a global citizen collective exploring commons-based, rapid whole system change strategies. SRG is also a simple 3-step procedure for transitioning to wellbeing. Because our inner narratives drive outer actions and impacts in the world, a great deal of our work focuses on the intimate relationship between personal, inner and individual transformation and social, collective transformation. We strive to replace the present zero sum economic game with a positive sum economic game, MEconomy with WEconomy. With a growing list of collaborators, we are building a commons framework for a neutral, participatory space. Within it, open source human interior transformation process called Deep Humanity operate side by side with a social exterior transformation process, cosmo-localization to build Open Source Circular Local Economies (OSCLE).
Dr. Gabe Filippelli is a Professor of Earth Sciences and Director of the Center for Urban Health at Indiana University – Purdue University Indianapolis (IUPUI) in Indiana where he studies the broad area of biogeochemical cycling in the environment. His work includes research and comparative analysis of past climate change impacts on terrestrial and marine ecosystems, with a particular focus on how these systems respond to rapid climate change as a window into how coupled earth/human systems will respond to current and future climate change. Dr. Filippelli is also engaged with a host of public health related research projects, including assessing exposure and uptake pathways for harmful heavy metals to children in urban settings.
Denise Abdul-Rahman holds a BS in management; MBA in healthcare management and a health informatics designation from Indiana University School of Informatics. Abdul-Rahman's body of work is centered on reduction of greenhouse gas emissions in order to stop the Climate from Changing. She facilitates the inclusion of the perspectives of people of color, vulnerable and low income, to employ a Theory of Change that will bring about a Deep De-carbonization and a Just Transition. She recently presented, Equity in Resilience Climate Adaptation Planning to over 18 Indiana city representatives at the Climate Leadership Summit.
She is currently engaged within the community of East Chicago, IN suffering decades of environmental injustice. She has advocated legislation, Listening sessions, Roundtables, and soon an "Our Youth/Community Scientist Project." She has successfully organized over 85 attendees from across the Midwest to the United States Environmental Protection Agency at Region V. She employed Just Energy Campaign, strategy that was instrumental in stopping the burning of coal and the campaign was crucial in the defeat of Distributed Generation, House Bill 1320. These victories rose to national coverage within LA Times and Bloomberg News. Abdul- Rahman has personally accepted awards in recognition.
Abdul-Rahman has provided guest lectures at DePauw University, IU Robert McKinney, School of Law, IUPUI School of Sociology, Purdue University, Smith University, (Popular Economics Summer Institute), Butler University and provided Keynote address for University of Chicago at Illinois (Freshwater Lab Summit).
Abdul-Rahman serves the NAACP Indiana Environmental Climate Justice, Climate Justice Alliance Steering Committee, US Climate Action Network Just Social and Economic Transition, People's Climate Movement Steering Committee, COP 21 Delegate, Vice Chair of the Indianapolis Air Pollution Control Board, and a RE-AMP Network Steering Committee Member.
__
This event is part of our From the Ground Up Series in partnership with Spirit & Place Festival and is hosted by the Indianapolis Environmental Justice Assembly. Learn more here: http://ej.kheprw.org