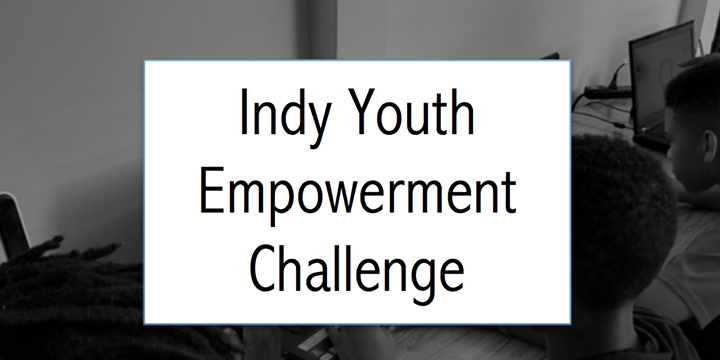 Indy Youth Empowerment Challenge: Brainstorming Solutions (co-host Kheprw)
Are you ready to brainstorm solutions? Join us for an IDEATE workshop of the Indy Youth Empowerment Challenge co-hosted by the Kheprw Institute!
Inspired by a group of students at Warren High School who decided to take a stand against youth violence and start a movement called We LIVE Indy, the Indy Youth Empowerment Challenge brings together existing conversations across Indianapolis and a diverse set of voices to co-create solutions that empower youth.
In the INQUIRE phase of communityINNOVATE's Indy Youth Empowerment Challenge, we dug into the barriers and catalysts to youth empowerment in Indianapolis. Now, in the IDEATE phase, we will brainstorm solutions. Workshop attendees will participate in a series of facilitated activities. All ages are welcome.
Refreshments will be provided.
FAQ:
I can't make it to this workshop. How else can I get involved? No problem! You have three options: (1) Attend an alternate workshop (two are offered in each phase of the challenge), (2) Host your own workshop, or (3) Contribute and follow along online.
Can I host my own workshop? Yes, we actually encourage it! We provide a detailed toolkit, and can even send some college students along to help out. This is an ideal option for teachers, youth leaders, universities, church groups, and others that care about this topic. Contact stephanie@communityINNOVATE.org for more information.
How long is the Indy Youth Empowerment Challenge? Solutions will be co-created as we move through a four-month innovation process:
INQUIRE (February): Understanding the problem
IDEATE (March): Brainstorming ideas
INVESTIGATE (April): Turning ideas into solutions
IMPACT (May): Preparing for implementation
For more information, check us out online!
Is this just for youth? Nope! While we do want to amplify the voice of youth in the challenge, we also recognize the value of a diversity of voices and perspectives.