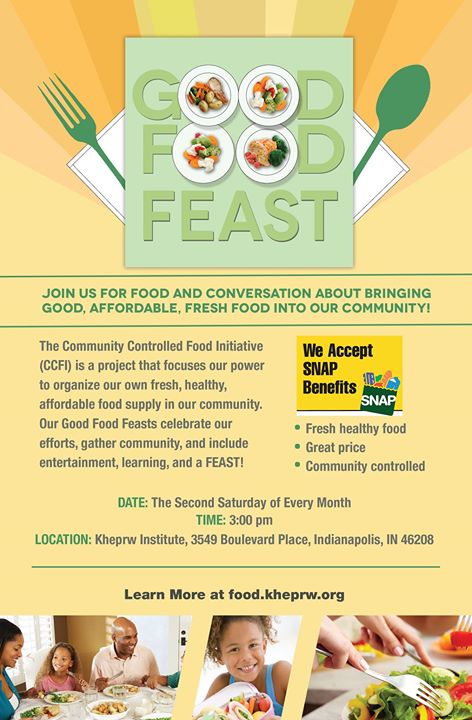 Good Food Feast
Join us for a monthly communtiy celebration including a cooking demonstration, communtiy potluck, and farm fresh food pickup! The Community Controlled Food Initiative is a cooperative started by community members that brings fresh affordable food to our community and supports local farmers like Lawrence Community Gardens. Come celebrate our efforts, enjoy good food, and build with us!
This Saturday we have a special speaker – Monica Joshua Maigari, a visiting farmer from Nigera and one of OxFam's "Female Food Heroes!" She is especially interested in connecting with food growers here in Indy and communtiy members. More about her in the comments below!
CCFI food share bags are reserved on the First Saturday of every month and picked up on the Second Saturday of every month. If you missed the deadline but want to buy a bag of food, we always offer bags of food for sale to walk-ins at this Second Saturday event, but they do sell out!
The communtiy celebration event is free! If you want to buy food, see below:
Pricing: You pay $20 or $15 for seniors or $7.50 for EBT/SNAP participants who pay with their SNAP/EBT card (discounted shares avaialble while supplies last). You can learn more and order online at http://food.kheprw.org/