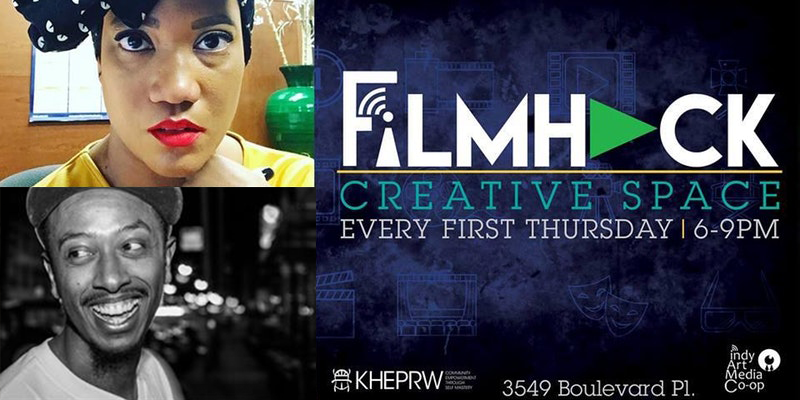 FilmHack: Pre-production & Relationships + Social LIVE workshops
Free skill shares for video-curious creatives, community, and filmmakers.
6PM WORKSHOP ~ Social LIVE ~ Lisa Barton ~
Lisa is an artist and digital marketing professional with a love and talent for social media. You'll practice, hands-on, the do's and don'ts of engaging your audiences in real time through Facebook or Instagram Stories. Learn to share your message, bring more people to your events, and build relationships with many folks at once through authentic, fun, and easy live broadcasts.
7:30PM DIALOGUE ~ Creative Entrepreneur Accelerator ~ Anna Traggesser ~
We'll talk with the Indiana Arts Commision about their new accelerator program for early-career creative entrepreneurs, and about the resources and infrastructure needed for a thriving arts economy.
7:45PM DIALOGUE ~ Relationships & Creative Projects ~ Diop Adisa ~
Diop has directed, filmed and produced music videos for himself and a handful of other Indianapolis artists. He's currently working as lead filmmaker for KI NuMedia , providing projects for an assortment of businesses and not-for-profit organizations. He's also a founding member of the community empowerment grassroots organization known as the Kheprw Institute.
//////\\////\\/////////\\\/////\\\\//////\\
#FilmHack is creative space—every first Thursday—for community, makers, and creatives to develop media skills, critical thinking, and connections.
We always have some tabletop games* and snacks; feel free to BYO for yourself or to share! ♗ ☕ ? ?
*games will be in another room, for those just keen to decompress, or to occupy any young people along for the ride. #FamilyFriendly