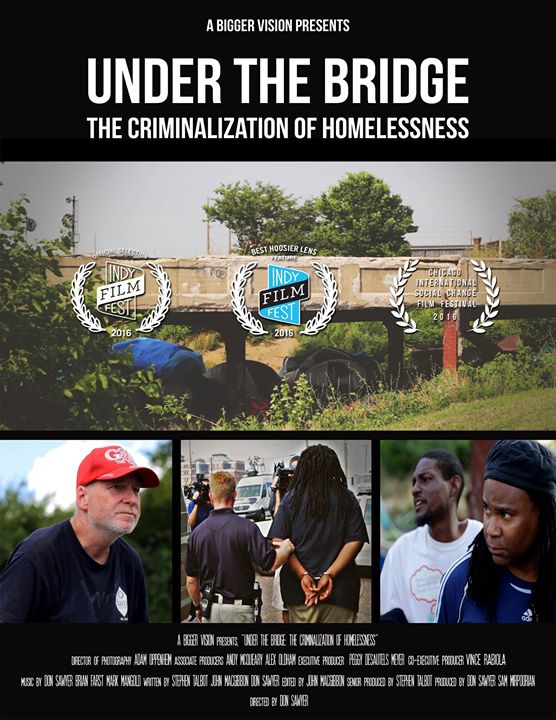 FilmHack: Investigative Journalism Panel ft. "Under The Bridge"
How do you get the key decision-makers on tape? How do you use media to push policy or change culture? Don Sawyer used two documentaries to push Indianapolis to adopt the first "Homeless Bill of Rights" in the US. This policy played a big role in changing the narrative around this issue.
Doors 6pm // Film 6:15pm // Panel Discussion 7:30pm
#FilmHack is creative space—every first Thursday—for community, filmmakers, and the video-curious to develop media skills, critical thinking, and connections.
This month we're honored to show "Under the Bridge" by local producer and activist Don Sawyer (a Bigger Vision).
We also have the privilege to highlight the public media work of Chinyelu Mwaafrika (Kheprw Institute), Wildstyle Paschall (The Learning Tree), and Diop Adisa (KI NuMedia), as they join Don in a panel and round table discussion after the event.
*****
As always, we'll have some snacks and games*; feel free to BYO for yourself or to share! ♗ ☕ ?
*games will be in another room, for those just keen to decompress, or to occupy any young people along for the ride. #FamilyFriendly
#FILMHACK FIRST THURS SCHEDULE
♦ Oct. 5th: Werewolf (a social mystery game e.g. Mafia), board games, & anime ("Castlevania"?)
♦ Nov. 3rd: TBD, featuring Mallory Gieringer; themes = building your team and network, and executing on a vision through the art of pre-production