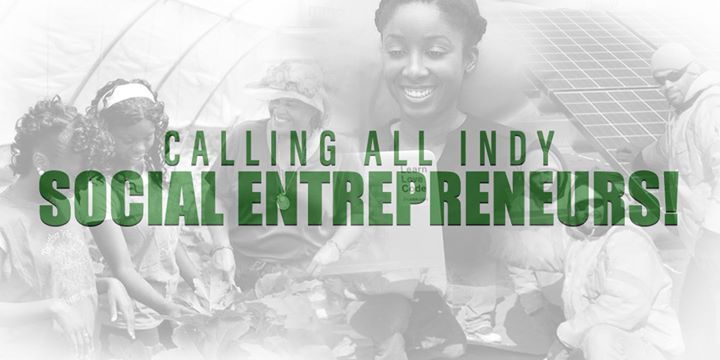 Calling All Social Entrepreneurs!
Are you a social entrepreneur? Do you have creative ideas to support a community need?
Join us for a conversation over lunch about how to build relationships and a network to support social entrepreneurship in Indianapolis. We will learn from featured speakers below about their work/expertise and discuss actions we can take together.
FEATURED SPEAKERS
Nashara Mitchell
NaShara Mitchell is a SUCCESS advocate, strategist, speaker, educator, entrepreneur and business owner, a Sassee B, reframing gaps to opportunities for women, creatives and the underrepresented. Considering business and education as forms of social justice and catalysts for social innovation, Ms. Mitchell is the owner of two innovation spaces: Studio B (founder), a place for creative exchange focusing on women and social entrepreneurs and the Design Bank (co-founder), an urban maker space providing Impact in 3D. Formally, NaShara is an instructor at the Lacy School of Business at Butler University.
NaShara was named 125 Neighborhood Leaders presented by Citizens Energy Group, an Emerging Leader by the 100 Black Men of Indianapolis and a finalist for Junior Achievement's Indy's Best and Brightest award.
Ms. Mitchell earned a BA in communications and sociology from DePauw University, MS in higher education and student affairs from the Indiana University and a Doctor of Jurisprudence from Indiana University Maurer School of Law.
Specialties: Public Speaking, Higher Education, Program Development & Implementation, Entrepreneurship, Gender & Racial Inequality, Creative Direction & Design
David E. Sexauer
David E. Sexauer is a high energy servant leader who enjoys helping others. David is the Founder of DAST Enterprises and DAST Foundation. DAST is currently investing in real estate ventures and business startups in the Central Indiana region. David received a BA in History and Religion from Azusa Pacific University. After an additional year of graduate work in theology, he served his country in the U.S. Army for four years.
After a decade of pursuing sports evangelism and Christian education opportunities, David felt called to leave traditional nonprofit work to be able to provide funding for the work others were doing. He started a successful technology consulting company (DAST Consulting) and used some of the profits to start a real estate investment group and DAST Foundation. Upon the sale of the consulting business in 2015, David went to work for the new owner for two years. In 2017, he accepted a position as Head of School with Central Christian Academy.
Mr. Sexauer has a long history of involvement in helping non-profits improve their level of organizational excellence and development efforts. He has been involved in the formation of multiple charitable organizations and enjoys making his business experience and skills available to organizations that help others.
David met his beautiful wife Cheri during college. They have been married for over 20 years and have 7 children. David is actively involved in community development by serving on several nonprofit boards and providing funding to groups who are active in urban Indianapolis.