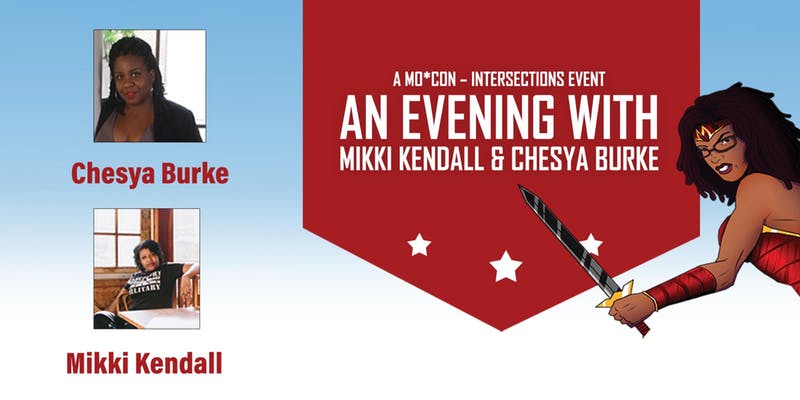 An Evening with Mikki Kendall and Chesya Burke
At the intersection of race, gender, social justice, and speculative fiction, two powerful voices, Mikki Kendall and Chesya Burke, join us for a night of what is sure to be lively conversation. Mikki and Chesya will interview each other and host a Q&A in a free-flowing dialogue on oppressive politics, the state of fluid literature, white feminism, and paths for moving forward.
ABOUT MIKKI KENDALL
A graduate of the University of Illinois at Urbana Champaign and DePaul, Mikki Kendall has been blogging since 2003 under the pen name Karnythia. With nearly 100K Twitter followers, in August of 2013, Mikki started the hashtag #solidarityisforwhitewomen. It sparked a global conversation about racism, solidarity, representation, and access to resources in feminist circles. Her other hashtags (including #fasttailedgirls, #NotJustHello, #AbuserDynamics, #MillenialMammy, #NotYourMandingo, and others designed to make room for hard conversations about feminist issues) have also gone viral. Her hashtag #HistoricPOC was used by the US National Archives as part of the 2015 Black History Month events.
She has written for The Guardian, Ebony, Essence, Publishers Weekly, Global Comment, Salon, xoJane, The Toast, and other online and print markets. She has also been published in several anthologies, both fiction and nonfiction. She edited the Locus nominated anthology Hidden Youth with Chesya Burke, and is part of the Hugo nominated team of editors at Fireside Magazine. In addition, Mikki is an accomplished public speaker, frequently speaking on race, feminism, and social media at a variety of conferences and colleges.
Sample Mikki here:
Want to thank black voters for defeating Roy Moore? Tackle voter suppression. https://www.washingtonpost.com/news/posteverything/wp/2017/12/15/want-to-thank-black-voters-for-saving-america-from-roy-moore-do-something-about-voter-suppression/?utm_term=.98a4b0107931
Want to see Oprah be president? Maybe she should start with city council. https://www.washingtonpost.com/news/posteverything/wp/2018/01/08/want-to-see-oprah-be-president-maybe-she-should-start-with-city-council/?utm_term=.d900c1f90403
ABOUT CHESYA BURKE
Chesya Burke is a doctoral candidate in the English department at the University of Florida. She received her Master's degree in African American Studies from Georgia State University in 2015. Currently, Chesya is a double fellow, receiving both the Florida Education Fund McKnight Fellowship and the PhD Graduate Student Fellowship from the University of Florida. As a scholar, she teaches such topics as Black Women Spec Fic Writers, The Racial Dynamics of Nationality Politics and The Literature of Resistance: From Nat Turner to Black Panther.
In addition, Burke wrote several articles for the African American National Biography published by Harvard and Oxford University Press. Burke is an award-winning writer, who has published nearly a hundred stories and articles, leading Grammy-nominated spoken word artist and poet Nikki Giovanni to call her work "stunning." Her primary areas of interests are in African American literature, race and gender studies, comics and fluid fiction. She edited the Locus nominated anthology, Hidden Youth, with Mikki Kendall and her thesis was on the comic book character Storm from the X-MEN. Shiv, Burke's stand alone comic, is scheduled to debut in 2019.
You can sample Chesya's work here:
Zero Percent Chance: https://firesidefiction.com/zero-percent-chance
Say, She Toy: https://www.apex-magazine.com/say-she-toy/
Horror Is . . . Not What You Think or Probably Wish It Is: http://www.nightmare-magazine.com/nonfiction/horror-not-think-probably-wish/