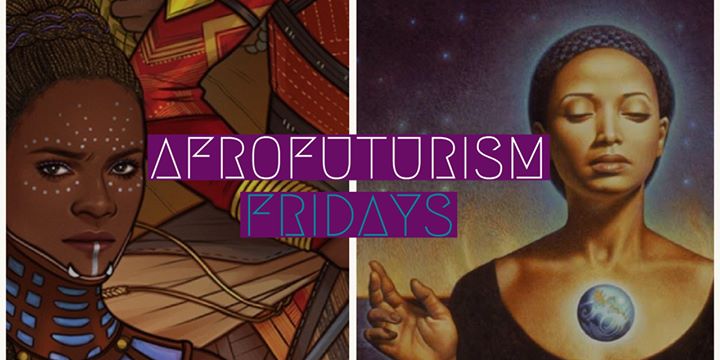 Afrofuturism Fridays: From Wakanda to Parable of the Sower
Join us for another jam-packed evening of food, music, and discussion!
Black Panther: Replicating Wakanda
After a vibrant discussion about the movie Black Panther and its themes, our discussion ended before we had a chance to discuss the role of technology in our communities
Technology plays a vital role in Wakanda—in medicine, communication, protection, and transportation (we see a Wakanda designed to be walkable Wakanda as well as having a mass transit system).
We will break up into roundtable discussion groups, each table will represent a different Wakanda tribe to discuss what (unique) resources does your community have?
After another round of sharing back, we will begin our look at Octavia Butler's seminal work, Parable of the Sower.
Parable of the Sower
After our elections in 2016, sales for the book 1984 sky-rocketed. However, the book which more correctly predicted the times we see ourselves living in is Octavia Butler's 1993 novel,Parable of the Sower. Opening in Los Angeles in 2024, we see a world suffering drought and rising seawater brought on by global warming. What's left of the middle class/working poor fend off the homeless with guns and gates. Public schools, even whole town, have been privatized. A presidential candidate rises to power during a period of isolationism and religious fervor. Elected on promises to bring back jobs and dismantling government programs. With a preacher's penchant for demagogary, he asks his voters to "Help him make America great again." Again, this book was published in 1993.
Butler has said that she came to this vision of the future by imagining our current problems progressing unchecked to their logical ends.
In the story, a young woman named Lauren Oya Olamina possess a gift called hyperempathy, the ability to feel pain/sensations she witnesses. She begins to develop a new belief system she dubs Earthseed. After a series of tragedies, she travels with fellow survivors. She comes to believe that humanity's destiny is among the stars.
Octavia Butler's work combines imagination with social, political, and even religious practice. It creates blueprints to find new ways to understand ourselves and the world around us. And, with its Afrofuture promise, it paints a vivid portrait of what the world could look like.
Afrofuturism is about building models of a potential future. Come build with us.